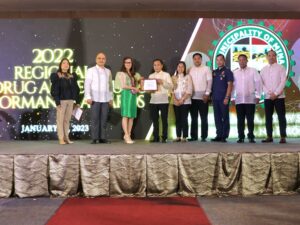 Seventy-nine (79) local government units were awarded for their "highly-functional" anti-drug abuse councils (ADACs) which was conferred during the awarding ceremony held on January 31, 2023 at the Diversion 21 Hotel, Iloilo City.
The ADACs garnered a rating of more than 90 points in the performance audit as far as implementation, monitoring, and evaluation of anti-illegal drug activities is concerned. LGUs that did not make it on the list have only received a moderate rating but still considered functioning.
"LGUs' efforts in revitalizing and strengthening the ADACs and the endeavors of the various National Government Agencies in heightening the advocacy against illegal drugs have led us to where we are today – reaping the fruits of our hard work," said RD Ingeniero in his message during the awarding ceremony.
The awarding ceremony is a testament of being on the right track in realizing the current administration's priorities to continue the campaign against illegal drugs.
This year 2023, recognition is given to the best performing, most effective, and outstanding local ADACs for the audit year 2021 and call for the support of local government units, partner government agencies, local stakeholders, and organizations to effectively advocate drug demand reduction to all sectors of the community and to continue to aim toward achieving accountable, transparent, and participatory governance in Western Visayas.
As early as 1998, the DILG encouraged LGUs to organize their respective ADACs to be responsible for the formulation of plans and implementation of local anti-drug abuse programs, projects and activities. On the other hand, the ADAC Performance Audit is done to assess the functionality and effectiveness of local ADACs based on existing issuances and policies.